Name: Steven Zhu / Anne Shen
Tel: +86-572-2115121
Mobile: +86-13757086464
E-mail: info@dproller.com;anneshen@dproller.com
Add: Huzhou Multimedia Industrial Park, No. 999, Wuxing Avenue, Balidian Town, Wuxing District, Huzhou, Zhejiang, China
Skype: stevenzhu1983;anneshendproller
MSN: zhuli2106312@hotmail.com
QQ: 158867514;17681691131





Product name : YT Motor drm

Item : 2014625194848
Details:
YT Drum motor
1.Both of motor and the reducing mechanism is installed inside the body of drum,YT Drum Motor is been used in humid ,dust and no space working condition.
2.YT Drum Motor adopt oil - immersed motor, it can greatly improve the heat dissipation performance,promise the drum can long time running.
3.Adopt hardened gear surface and planetary gear drive,YT Drum Motor can steady running,low noise,big capacity with over-load and large power range(18.5KW to 75KW).
4.YT Drum Motor is a idleal driving device for the Bucket Wheel Stacker and Reclaimer,load and unload machines
Parameter List
Dia
(mm)
Power
(Kw)
Belt width
Speed V(m/s)
Weight
(kg)
1
1.25
1.6
2
2.5
3.15
4
Ø630










18.5
800
○
○
○
○
○
○
○
1200
1000
○
○
○
○
○
○
○
1250
1200
○
○
○
○
○
○
○
1300
1400
○
○
○
○
○
○
○
1350
22
800
○
○
○
○
○
○
○
1300
1000
○
○
○
○
○
○
○
1350
1200
○
○
○
○
○
○
○
1400
1400
○
○
○
○
○
○
○
1450
30
800
○
○
○
○
○
○
○
1300
1000
○
○
○
○
○
○
○
1400
1200
○
○
○
○
○
○
○
1450
1400
○
○
○
○
○
○
○
1500
37
800
○
○
○
○
○
○
○
1350
1000
○
○
○
○
○
○
○
1500
1200
○
○
○
○
○
○
○
1550
1400
○
○
○
○
○
○
○
1600
Ø800













18.5
800
 
○
○
○
○
○
○
1270
1000
 
○
○
○
○
○
○
1320
1200
 
○
○
○
○
○
○
1370
1400
 
○
○
○
○
○
○
1420
22
800
 
○
○
○
○
○
○
1370
1000
 
○
○
○
○
○
○
1420
1200
 
○
○
○
○
○
○
1470
1400
 
○
○
○
○
○
○
1520
30
800
 
○
○
○
○
○
○
1420
1000
 
○
○
○
○
○
○
1470
1200
 
○
○
○
○
○
○
1520
1400
 
○
○
○
○
○
○
1570
37
800
 
○
○
○
○
○
○
1520
1000
 
○
○
○
○
○
○
1570
1200
 
○
○
○
○
○
○
1620
1400
 
○
○
○
○
○
○
1670
45
1000
 
 
○
○
○
○
○
2080
1200
 
 
○
○
○
○
○
2200
1400
 
 
○
○
○
○
○
2320
55
1000
 
 
○
○
○
○
○
2130
1200
 
 
○
○
○
○
○
2250
1400
 
 
○
○
○
○
○
2370
Ø1000
45
1000
 
 
 
○
○
○
○
2150
1200
 
 
 
○
○
○
○
2300
Mounting External Size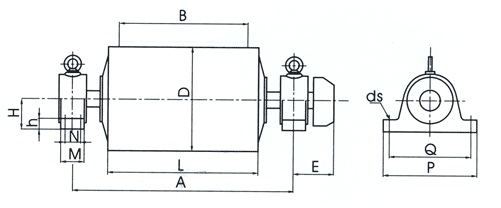 D(mm)
B
A
L
H
M
N
P
Q
h
d1
E
Ø630
800
1300
950
140
130
80
400
330
50
Ø27
200
100
1500
1150
140
130
80
400
330
50
Ø27
1200
1750
1400
160
150
90
440
360
50
Ø34
1400
2000
1600
160
150
90
440
360
50
Ø34
Ø800
800
1300
950
140
130
80
400
330
50
Ø27
1000
1500
1150
140
130
80
400
330
50
Ø27
1200
1750
1400
160
150
90
440
360
50
Ø34
250
1400
2000
1600
160
150
90
440
360
50
Ø34
Ø1000
1000
1500
1150
140
130
80
400
330
50
Ø27
1200
1750
1400
160
150
90
440
360
50
Ø34
1400
2000
1600
160
150
90
440
360
50
Ø34