Name: Steven Zhu / Anne Shen
Tel: +86-572-2115121
Mobile: +86-13757086464
E-mail: info@dproller.com;anneshen@dproller.com
Add: Huzhou Multimedia Industrial Park, No. 999, Wuxing Avenue, Balidian Town, Wuxing District, Huzhou, Zhejiang, China
Skype: stevenzhu1983;anneshendproller
MSN: zhuli2106312@hotmail.com
QQ: 158867514;17681691131





Product name : TDY Drum motor

Item : 2014624205441
Details:
TDY Drum Motor:


1.Both of motor and the reducing mechanism is installed inside the body of drum,TDY Drum Motor is been used in humid ,dust and no space working condition.
2.TDY adopt special motor(Oil cooled motor),Power range is 1.5KW to 22KW.
3.TDY drum motor is widely used for general purpose now.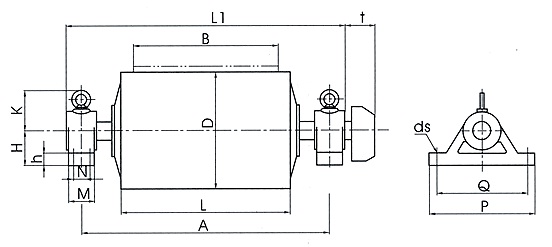 D(mm)
B
A
L
L1
t
H
K
M
N
P
d
h
ds
Ø320
500
850
600
920
95

120
125

70
-
340
280
35
Ø27
620
Ø27
650
1000
750
1070
120
70
-
340
280
35
Ø27
Ø400
500
850
600
940
95
120
125
90
 
340
280
35
Ø27
650
1000
750
1090
120
90
 
340
280
35
Ø27
Ø500
500
850
600
960
115


100
145


70
-
340
280
35
Ø27
620
650
1000
750
1120
120
90
-
340
280
35
Ø27
800
1300
950
1420
120
90
-
340
280
35
Ø27
Ø630
650
1000
750
1120
115


120
175

90
-
340
280
35
Ø27
800
1300
950
1430
140
130
80
400
330
35
Ø27
1000
1500
1150
1630
140
130
80
400
330
35
Ø27
1200
1750
1400
1900
160
180
150
90
440
360
50
Ø34
Ø800
1400
2000
1600
2150
115
160
180
150
90
440
360
50
Ø34